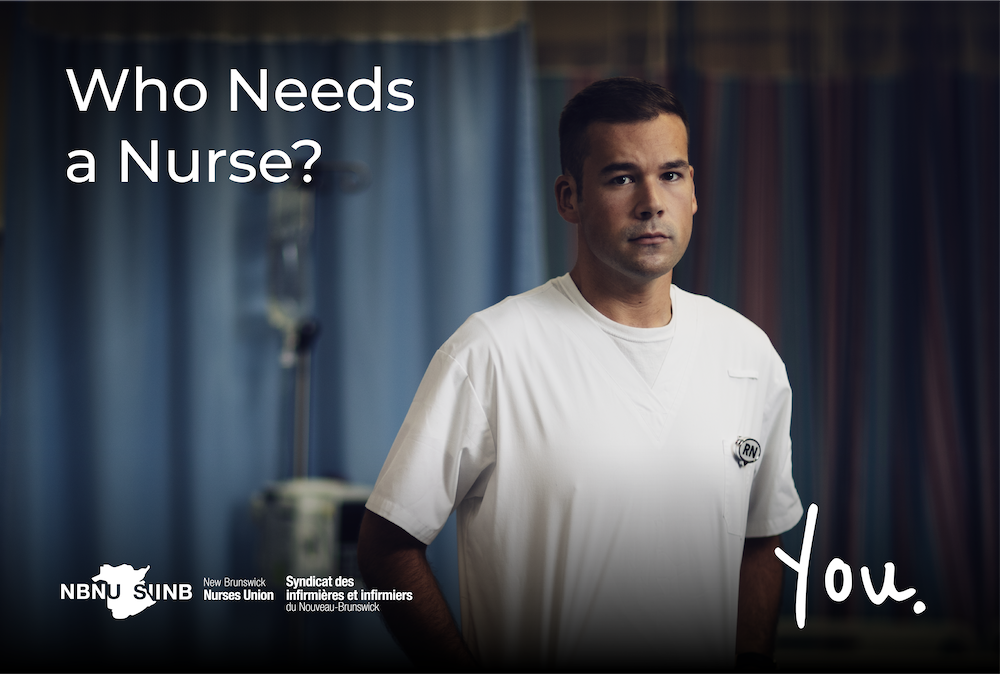 New Brunswick Nurses Union
Before engaging Pilot, New Brunswick Nurses Union (NBNU) faced a multitude of issues. Nurses in New Brunswick members were experiencing workload and staffing issues, struggles to gain recognition for their valuable work, the inability to recruit and retain new nurses, deteriorating workplace conditions and unsafe staffing practices. NBNU members faced daily workloads and demands to work overtime beyond realistic and burnout levels.
NBNU needed to ensure their members that they were actively representing their interests, building awareness about the value nurses bring to the health care system, and influencing key decisions makers like employers and politicians. NBNU needed a multimedia campaign to call governments and the public to action.
After much research and consultation, Pilot° crafted a campaign strategy that would build strong emotional connections with influencers and decision makers. Our goal was to influence key decision makers to address the local nursing shortage that results in unsafe staffing practices.
The campaign message was simple: "Who Needs a Nurse?"
We presented a poignant question to reenergize the message that nurses bring tremendous value to the healthcare system in New Brunswick. They are vital to ensuring positive patient outcomes and fostering an efficient healthcare system.
Who needs a nurse? Everyone.
To encourage maximum impact and engagement, our tactics used hard-hitting, plain language and imagery. The campaign included 60-, 30-, and 15-second ads. We filmed and produced vignettes highlighting the real experiences of real nurses in English and French. With Pilot's breadth of web development and digital marketing resources, we created a dedicated a campaign website to direct traffic and inspire action. Our creative team developed professional campaign photography, billboard ads, digital ads and animated explainer videos.
Through strategic partnerships with trusted media buyers, Pilot developed a metric-driven, adjustable campaign. We released the campaign across traditional, social, and digital media. Using real-time data, we redirected resources throughout the campaign to optimize impact. We retargeted audiences to better inspire action towards campaign goals.
"Who Needs a Nurse?" received wide media coverage, media interviews requests, and strong social media engagement. NBNU members shared they felt represented in the campaign materials. The campaign influenced many union members to share the campaign posts on their own social media and leave comments about their own experiences and lived reality.
Our digital media campaign experienced 3.2 million digital ad impressions. The dedicated campaign site attracted more than 15,000 visits. The "Who Needs a Nurse?" video vignettes were viewed more than 436,000 times.
The campaign was instrumental in NBNU's work towards their goals of supporting their members, building awareness of the value of nurses, and influencing key decision makers. It was also influential in NBNU meeting with Government to discuss a way forward.